Newly built designer share house.
A very modern and stylish building quietly nestled on the bus street.
You can enjoy the four common areas surrounding the courtyard in all directions.
150-inch screen, rain shower, island kitchen, super rich!
Why don't you enjoy a premium share life that is a little richer and one class higher?
Contact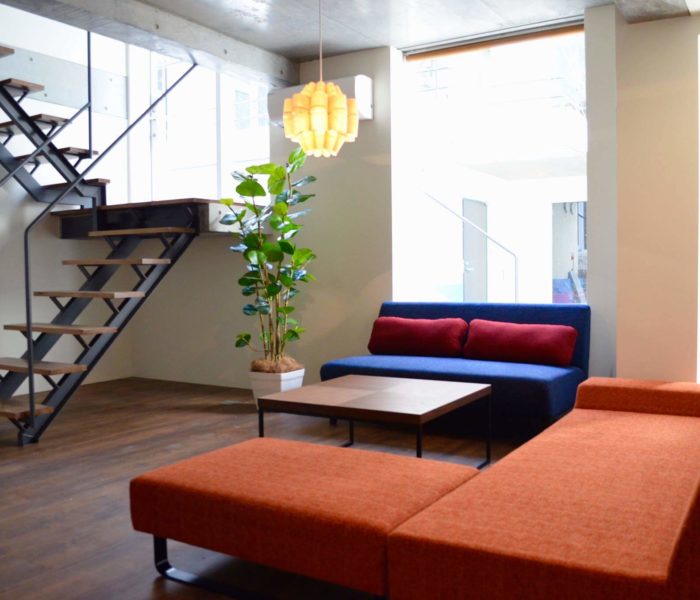 MERIT
■ Jiyugaoka is a share house that is a 10-minute walk from the station
■ A workspace that is easy to use on a PC is available!
■ With a large 150-inch projector!
ACCESS

10 minutes walk from Jiyugaoka Station on the Tokyu Toyoko
7 minutes walk from Kuhombutsu Station on the Tokyu Oimachi
| Room | State | Monthly Rent | Utility&Management Fee | Floor Space | Room Type |
| --- | --- | --- | --- | --- | --- |
| 2F SE-3 | Vacancy | 85,000yen | 12,000+5,000 yen | 10㎡ | Private room |
| 1F NE-1 | Vacancy | 80,000yen | 12,000+5,000 yen | 10.4㎡ | Private room |
| 1F NE-3 | Vacancy | 80,000yen | 12,000+5,000 yen | 10.2㎡ | Private room |
| 1F NE-4 | Vacancy | 85,000yen | 12,000+5,000 yen | 10.4㎡ | Private room |
| 1F NW-2 | Vacancy | 77,000yen | 12,000+5,000 yen | 8㎡ | Private room |
| 2F NW-6 | Vacancy | 75,000yen | 12,000+5,000 yen | 8.3㎡ | Private room |
COMMENT
Jiyugaoka. As we all know, a city of cafes, sundries and interiors. It's a fashionable city.
Wabi Sabi House Jiyugaoka is a share house that is a 10-minute walk from the station.
Not too far, not too close. It stands quietly facing the spacious bus street. Next door, the sound of the murmuring of Nekojarashi Park echoes quietly and soothes your heart.
The building is a newly built designer. The Jonan area of Setagaya is a high-class residential area. It is a gem by Naoki Sawaguchi, a first-class architect of 44TUNE who has a reputation for producing designer architecture. Off The second series that inherits the flow of Jiyugaoka, a complex apartment where general rental dwelling units and share houses blend well.
Four community areas surround the wooden deck courtyard, allowing residents to move freely. It's a compound style.
In the cafe area, a workspace that is easy to use with a PC is prepared, and a chalk paint wall, a so-called blackboard, is prepared as a communication tool between residents. Furthermore, the image of the projector is projected on the entire wall on the west side, and you can enjoy watching movies and sports on the 150-inch screen. Of course, it is a 5.1ch surround system with deep bass.
In the kitchen area, you can enjoy cooking around the island kitchen. In addition, seasonings and ingredients can be stored in the ample food storage assigned to each room. There is also a fridge for parties so you can enjoy cold food in your cold home.
Spacious sofas and large windows in the living area. You can enjoy reading while being surrounded by the light that shines down from there. There is also a kitchen in this area. Most of the home appliances are lined up in Russell Hobbs made in Germany. Blenders, toasters and coffee machines are also available.
In the Japanese modern area, you can spend a relaxing time in the spacious tatami space of about 30 tatami mats. You will be able to stretch and take a nap as you wish. The 50-inch TV is equipped with Bose's home theater system, and you can watch about 70 channels of SKY PerfecTV, including terrestrial digital broadcasting, in a realistic sound.
In the middle of the courtyard, there are several hammocks hanging and an open-air cafe table. Since the wooden deck passes under the passageway, you can move with slippers without getting wet in the rain.
relaxation. There are a total of 5 toilets with washlets, 3 baths with bathtubs, and 4 shower booths with rain showers that can only be found in luxury hotels. It looks like you can have a very comfortable bath time.
private. Contrary to the fulfilling community space, privacy can be secured firmly. Since each house has a mailbox, mail is not lost and anonymity can be maintained. In fact, most rooms have two entrances, one for external use and one for medium use. It is also possible to enter the room without going through the common area. Of course, the room also has its own shoe box and umbrella stand.
The furniture in the room is also a number of gems carefully selected by the coordinator. Muji's Bonnell Coil Single Bed. Plenty of storage in the IKEA closet. Depending on the room, Eames chair, Seventh chair and Karimoku homage desk. Each private room has a 130-liter refrigerator with plenty of space. Of course, curtains, air conditioners, and wall mirrors are also provided.
community. Feel free to use it in the community area when you want to get together, or in a private room when you want to stay in the room. It seems that you can enjoy a shared life with a sense of distance that is well-balanced with other residents.
Convenience. Jiyugaoka is very accessible wherever you go. One train to Shibuya, Nakameguro, and Daikanyama. Futakotamagawa can also be reached in 5 minutes by train. You can reach Motomachi-Chukagai in Yokohama in 30 minutes.
There is also a bicycle storage area for share house residents on the north side of the building. 5 minutes by bicycle to Komazawa Park on a straight road. You can go to Yasawa Valley and Denenchofu in about the same amount of time.
How do you like it .
Premium house in a premium city, here is a real luxury. Why don't you stretch out a little and enjoy the shared life of adults?
We receive quite a lot of inquiries every time, so we may decline on a first-come, first-served basis. Book your preview now.
INFORMATION
Name            WabiSabiHouse Jiyugaoka
---
location           6-5-4 Todoroki, Setagaya-ku, Tokyo
---
Monthly Rent           70,000yen~85,000yen
---
Management fee        5,000yen
---
Utility&Management Fee  12,000yen
---
Fire insurance       6,350yen
---
Nearest station   
・10 minutes walk from Jiyugaoka Station on the Tokyu Toyoko Line
・7 minutes walk from Kuhombutsu Station on the Tokyu Oimachi Line
---
Each room equipment    ・ TV ・ DVD ・ Scaper ・ System kitchen ・ Island kitchen ・ Water purifier ・ Refrigerator ・ Dryer ・ Rain shower ・ Bathroom ・ Hot water heating toilet seat ・ Bicycle parking ・ Hammock ・ Home theater
---
Shared facilities       ・ Desk ・ chair・ cabinet ・ closet ・ bed ・ curtain air conditioner ・ refrigerator ・ lighting ・ costume case ・ full-length watch ・ curtain ・ clothes-drying rack ・ shoe rack ・ umbrella stand
---
Conditions for moving in  
・ Men and women can move in
・ Age restrictions available (underage students are not allowed)
・ Minimum contract period: 12 months or more
・ Identification card (Japanese)
・ Resident's card (Japanese)
・ Emergency contact information (Japanese)
・ Passport (foreigner)
・ Visa (foreigner)
・ Emergency contact information (foreigners)
・ Additional charge for 2 people: 10,000 yen (+ utilities)
・ Re-contract handling fee: 25,000 yen
---
House rules
・ No smoking, no pets
・ Frequency of visits by managers: About twice a week
・ Friends can visit (advance notice required for accommodation)
・ Garbage removal is on duty
・ Welcome party
・ House parties are held irregularly
---