WabiSabi House OFF JIYUGAOKA
A newly built designer share house in a quiet luxury residential area.
Wabi Sabi House Off Jiyugaoka is his place to relax and relax.
There is a big cherry tree in the garden and you can see it from the living room.
Why don't you enjoy a premium share life that is a little richer and one class higher?
Contact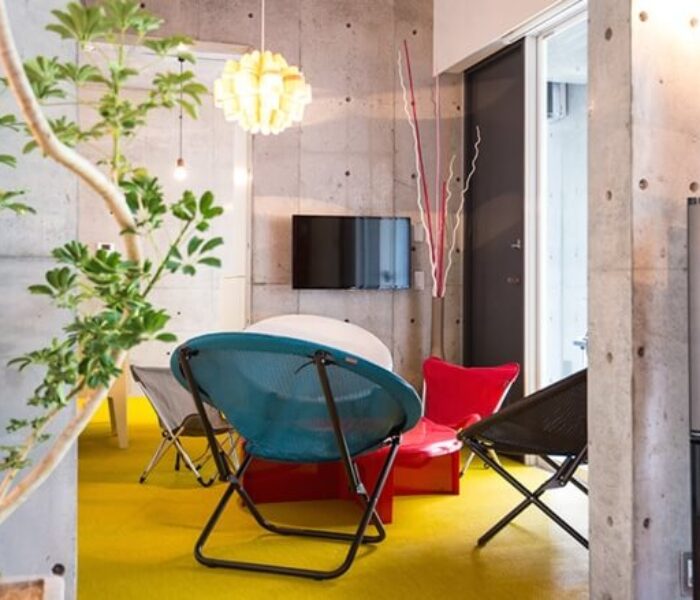 MERIT
■ Enjoy the cherry blossom trees in the garden that you can see from the living room.
■ A slightly rich and premium shared life that is one class higher.
ACCESS

15 minutes walk from Jiyugaoka Station on the Tokyu Toyoko Line
15 minutes walk from Kuhombutsu Station on the Tokyu Oimachi Line
| Room | State | Monthly Rent | Utility&Management Fee | Floor Space | Room Type |
| --- | --- | --- | --- | --- | --- |
| 1 | Taken | 85,000yen | 18,000yen | 22.1㎡ | Private room, Bath/Toilet, Walk in closet |
| 2 | Taken | 75,000yen | 18,000yen | 10㎡ | Private room, Large storage. |
| 3 | Taken | 75,000yen | 18,000yen | 10㎡ | Private room, Large storage. |
| 4 | Taken | 70,000yen | 18,000yen | 8.1㎡ | Private room |
| 5 | Taken | 70,000yen | 18,000yen | 8.1㎡ | Private room |
COMMENT
Wabi Sabi House OFF Jiyugaoka is a petite luxury, petite social apartment.
This is Todoroki. It is close to Tokyo's last paradise, Todoroki Valley, and is a 6-7 minute bike ride from Jiyugaoka. So-called OFF Jiyugaoka. It's a little from the station. However, that is why there is a luxurious living environment here that is not disturbed by anyone.
If you enter Meguro Dori near Kinokuniya, you will find a quiet residential area with abundant greenery. The small but stylish, somewhat elegant Tokyu coach's bus runs around the city every 10 minutes, and it's surprisingly convenient to be active as a foot in the area.
Meguro Dori is an interior street. There are countless interior shops along the street.
If you walk around, you can reach Komazawa Park in no time. If you have a bicycle, you can enjoy everything from Komazawa Park to Jiyugaoka.
The building is a newly built designer. A gem by Naoki Sawaguchi, a first-class architect of 44TUNE who has a reputation for producing designer condominiums in a high-class residential area here in the Jonan area.
It is a complex apartment where general rental dwelling units and share houses blend well.
The shared dwelling units are on the 1st floor and B1 floor, but the windows are large and plenty of light can be taken in. The quaint interior of the mid-century modern will promise the residents a blissful time of petit luxury.
You can go through a secret path, enter the bicycle as it is, and hang it on the built-in rack.
There is plenty of adult hideaway.
The lawn in the garden is lush and dazzling. The cherry blossom trees seen from the living room are sitting down. It will heal the eyes of the residents in early spring.
A premium house in a premium city, here is a petit luxury. Why don't you stretch out a little and enjoy the shared life of adults?
Wabisabi House OFF In the same town as Jiyugaoka, a new share house "Wabisabi House Jiyugaoka" has opened. How about a tour together with this?
INFORMATION
Name            WabiSabiHouse OFF Jiyugaoka
---
location          1-9-21 Fukasawa, Setagaya-ku, Tokyo 1F
---
Monthly Rent           70,000yen~85,000yen
---
Management fee        18,000yen
---
---
Fire insurance        0yen
---
Nearest station
・15 minutes walk from Jiyugaoka Station
・15 minutes walk from Kuhombutsu Station
---
Each room equipment   ・Keys ・ warehouses ・ desks ・ chairs ・ cabinets ・ closets ・ walk-in closets ・ beds・ curtains ・ air conditioners ・ lighting ・ clothes-drying racks
---
Shared facilities       TV  ・ kitchen  ・ refrigerator  ・ wireless LAN (Wi-fi)  ・ washing machine ・ dryer  ・ shower  ・ bathroom  ・ toilet   ・ bicycle parking lot
---
Conditions for moving in
・ Men and women can move in
・ Contract fee 50,000 yen
・ There is an age limit (underage students are not allowed)
・ Minimum contract period: 12 months or more
・ Re-contract administration fee: 25,000 yen (+ tax)
・ Additional charge for 2 people: 10,000 yen (+ utilities)
・ Identification card with face picture(Japanese)
・ Emergency contact information (Japanese)
・ Passport & Registration card (foreigner)
・ Emergency contact information (foreigners)
---
House rules
・ No smoking
・ Cleaning: Manager (about twice a week)
・ Frequency of visits by managers: About twice a week
・ No pets
・ Friends can visit (advance notice required for accommodation)
・ Garbage removal is on duty
・ Welcome party House party is held irregularly
---