WabiSabi House OFF JIYUGAOKA
Enjoy petit luxury! Make the best of your share life ♪
| Room | State | Room Type | Monthly Rent | Utility&Management Fee | Floor Space |
| --- | --- | --- | --- | --- | --- |
| 01 | ☆☆Available!! | Private, Western style | 85,000yen | 12,000+5,000 yen | 22.1㎡ |
| 02 | Taken | Private, Western style | 75,000 yen | 12,000+5,000 yen | 10㎡ |
| 03 | ☆☆Available!! | Private, Western style | 75,000 yen | 12,000+5,000 yen | 10㎡ |
| 04 | Taken | Private, Western style | 70,000 yen | 12,000+5,000 yen | 8.1㎡ |
| 05 | Taken | Private, Western style | 70,000 yen | 12,000+5,000 yen | 8.1㎡ |
Men and women Allowed
Contract fee 50,000 yen
Utility fee 12,000
Management fee 5,000 yen
Age limit
Min Contract 6 Months And Up
Re-contract handling fee 25,000 yen+ tax
2 people surcharge 10,000 yen (+ Utility fee)
Passport(Foreigner)
VISA(Foreigner)
Emergency Contact(Foreigner)
TV
Kitchen
Fridge
LAN(Wi-fi)
Washing
Dryer
Shower
Bath
Toilet
Bicycle parking
Other
Key
Large Storage
Desk
Chair
Cabinet
Closet
Bed
Curtains
A/C
Lights
Drying rack
Staff (Visits) 3 Per Week
Cleaning: 2 Per Week
No Smoking
No Pets
Sleepovers Allowed (Get Approval First)
Residents take turns with trash
Welcome party
Parties held on occasion
Other
| | |
| --- | --- |
| Address | 1F, 1-9-21, Fukasawa, Setagaya-ku, Tokyo, 158-0081, Japan |
| Train 1. | 15 minute walk to Jiyugaoka station on Toyoko line. |
| Train 2. | 15 minute walk to Kuhonbutsu station on Oimachi line. |
About WabiSabi House OFF JIYUGAOKA
Wabisabi House OFF JIYUGAOKA is a small luxury social apartment
in Todoroki--just 6~7 minutes cycling from Jiyugaoka where close
to the Todoroki Valley the last nature of Tokyo.
The house is a little ways from the station.
However,
that is why you won't be bothered by anyone there creating
a comfortable living environment.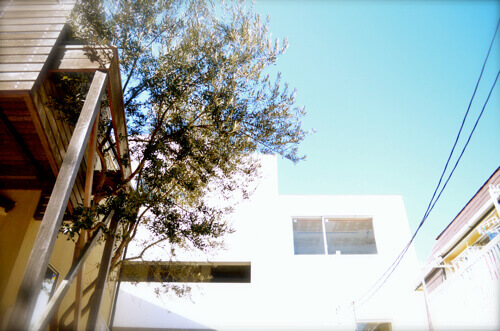 If you turn into the road by the Kinokuniya super market on Meguro-doori,
there is a quiet residential area full of green.
It is small but stylish, and the fancy Tokyu Coach Bus runs actively
throughout the area.
Meguro-doori is a street of interior design, with countless shops
of the sort lined up.
You can walk to Komazawa Park in no time, and if you have a bicycle,
you can get from Komazawa to Jiyugaoka and enjoy the area to the fullest.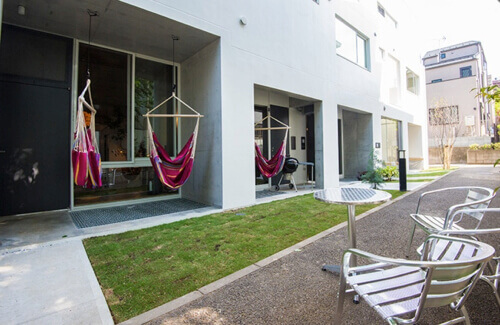 The building is a new designer building. It is a complex apartment
produced by 44 TUNE, which has a reputation for producing designer mansions
for renting out and share housing in high-class residential areas of Jonan.
Although it is the 1F and B1F that will be occupied for the share house,
the windows are big, bringing in a lot of light.
Residents who like or are into a mid-century modern design will be at bliss
here without a doubt.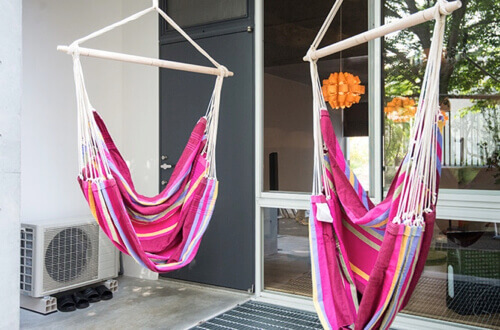 Passing through a secret path, you can ride your bicycle right up to the entrance
and place it onto a rack. The house has a great sense of an adult hideaway.
There is a green lawn and a cherry blossom tree that you can see from
the living room.
It will definitely be a pleasant and relaxing sight for the residents in the springtime.