WabiSabi House NAKANO FUJIMICHO
Wabi Sabi House Nakano Fujimicho is located on the edge of Nakano near Shinjuku.
This share house, a penthouse, has a roof balcony.
It is a superb view house where you can see all the skyscrapers of Shinjuku from Sunshine City and Mt. Fuji.
Why don't you enjoy the shared life with the residents from all over the world with the night view under the starry sky?
Contact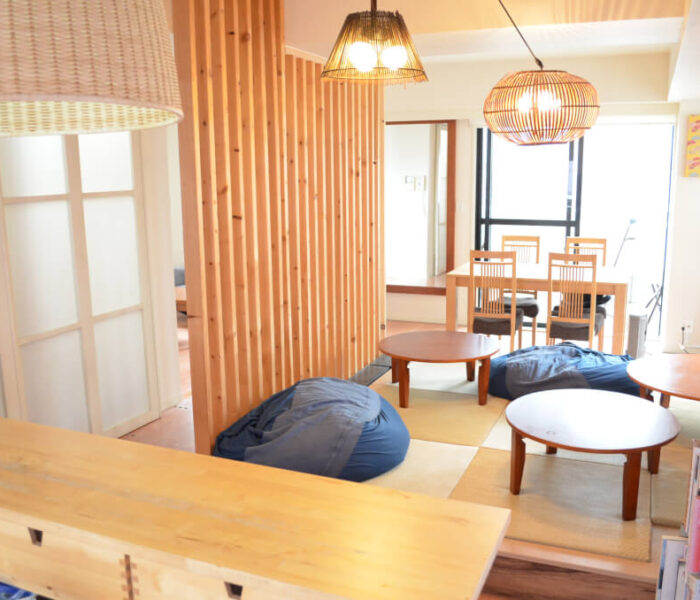 MERIT
■ Every station arrives in about 10 minutes on foot.
■ With a rooftop called "Aozora Living"
■ Renovated living room with a modern Japanese taste
ACCESS

20 minutes walk from Sasazuka Station on the Keio Line
5 minutes walk from Nakano Fujimicho Station on the Tokyo Metro Marunouchi Line
1 minute walk from the bus pavilion bound for "JR Chuo Line Nakano Station"
| Room | State | Monthly Rent | Utility Fee | Floor Space | Room Type |
| --- | --- | --- | --- | --- | --- |
| 4F-Haru 02 | Taken | 55,000yen | 12,000 yen | 7㎡ | Private room |
| 6F-Aki 03-2 | Vacancy | 70,000yen | 12,000 yen | 13.1㎡ | Private room Fully renovated. |
COMMENT
I like share houses.
Even if the generation is the same, they are born, raised, and have different genders, let alone different countries, and it is natural that there are frictions and conflicts. Well, there are as many values as there are stars.
But instead, the fun, emotion, wisdom, and stimulation are more than doubled, absolutely.
There is a share house in Nakano Fujimicho that is perfect for you.
Nakano Fujimicho? Where is it?
Although it is a Marunouchi line, it is a branch line, a very minor and small station. There is nothing in front of the station.
When you look at this city, take a bird's eye view. It is only 4 km away from the branch line and main line, and the end point is reached at 4 stations. It seems that the line that was originally only for the train to sleep at the marshalling yard was opened to the public.
Every station is about a 10-minute walk. You can enjoy all three or four stations as one city.
Many temples and shrines, parks, and local streets as if you had traveled back in time to the Showa era. A lively shopping street suddenly appears in the middle of a residential area.
The Wabi Sabi House Nakano Fujimicho is almost in the center.
You can go anywhere with a bicycle. It takes about 15 minutes to reach Shinjuku and about 25 minutes to reach Shibuya. Yoyogi Park takes about 20 minutes, and Shimokitazawa, Koenji, and of course Nakano take about 10 minutes.
Surprisingly accessible everywhere.
Wabi Sabi House Nakano Fujimicho is a 7-story condominium penthouse. There are 4 floors, each named Spring, Summer, Autumn, and Winter.
In the end, it seems that the rooftop is called "Aozora Living".
There is only Fujimi Town, and you can see the magnificent view of Mt. Fuji from the blue sky living room on the roof. You can see Sunshine City. And the overwhelming skyscrapers of Shinjuku subcenter jump into my eyes breathtakingly. Under the starry sky, I forget the time and talk with the night view, wine and friends.
... to the extent that my body is fluttering and numb.
The newly renovated living room has a modern Japanese taste. The small rise with the scent of rush, the lantern of Japanese paper, the large chabudai, and the partition of the lattice are reminiscent of Kyomachiya.
If you leave your body in a colorful cube cushion, you can experience the feeling of weightlessness as if you were surrounded by the microcosm inside your mother's body.
... I don't want to leave anymore, no! !!
We receive quite a lot of inquiries every time, so we may decline on a first-come, first-served basis. Book your preview now.
Contact us now! !!
INFORMATION
Name            WabiSabiHouse Nakanofujimicho
---
location          5-11-29 Yayoi-cho, Nakano-ku, Tokyo
---
Monthly Rent           30,000yen~75,000yen
---
Utility&Management Fee  12,000yen
---
Fire insurance       6,350yen
---
Nearest station
・20 minutes walk from Sasazuka Station
・5 minutes walk from Nakano Fujimicho Station
---
Each room equipment   ・Keys ・ desks ・ chairs ・ cabinets ・ hanger closets ・ beds ・ curtains ・ air conditioners ・ lighting ・ clothesline ・ wall mirrors ・ balconies
---
Shared facilities       ・ TV ・ kitchen ・ refrigerator ・ shared PC ・ wireless LAN (Wi-fi) ・ washing machine shower ・ bathroom ・ toilet ・ bicycle parking
---
Conditions for moving in
・ Men and women can move in
・ Contract fee 30,000 yen
・ There is an age limit (underage students are not allowed)
・ Minimum contract period: 6 months or more
・ Re-contract handling fee: 5,000 yen (+ tax)
・ Additional charge for 2 people: 10,000 yen (+ utilities)
・ Identification card (Japanese)
・ Resident's card (Japanese)
・ Emergency contact information (Japanese)
・ Passport (foreigner)
・ Visa (foreigner)
・ Emergency contact information (foreigners)
---
House rules
・ No smoking
・ Cleaning: Manager (about twice a week)
・ Frequency of visits by managers: About twice a week
・ No pets
・ Friends can visit (accommodation is not possible)
・ Garbage removal is on duty
・ House parties are held irregularly